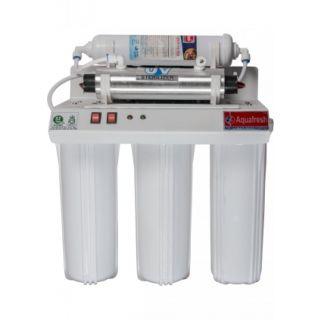 5 Stage UV Water Purifier
Aquafresh 5 Stage UV Water Purifier
Description
Aquafresh 5 Stage UV Water Purifier
There is no denying that the water resources we have at our disposal are being strained as water becomes scarce. Given the ease with which most water sources become contaminated, having a water purifier at home is essential. When it comes to water purification, RO water purifiers perform admirably. The Kent Ace 8 L RO + UV + UF + TDS Purifier, for example,  AQUA FRESH 5 STAGES UV WATER PURIFIER has a multi-stage filtration system that not only filters out impurities but also retains the essential minerals present in the water.
5 STAGE UV  FIBRE is used first, followed by a hollow fiber UF membrane to fully filter out dead bacteria, viruses, and cysts in the UV+UF phase.
India is the country of birth.The design will be wall-mounted and suitable for domestic use. Tank can be quickly removed and washed since it is detachable. It can be used to purify tap water and municipal water supplies.
---
Only logged in customers who have purchased this product may leave a review.