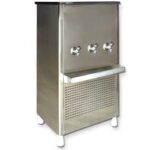 Description
Water Cooler
The WATER COOLER sequence is the Water Cooler collection from COMMERCIAL RO – The refrigeration experts. The WATER COOLER variant has the following characteristics: The entire body is made of food grade stainless steel, including tanks inside. 40 L per hour of Cooling Power Storage power of 80 litres Hourly power 2 faucets / stainless steel tap  200 glasses of water per hour is given by the water cooler. It uses the environmentally safe R-134a refrigerant.
Float valves made of food-grade plastic are not only secure, but they also easily withstand high inlet water head pressure.
FEATURES-A) Water Cooler Features:- 1) Quicker cooling (per hour 10ltr) 2) Environment-friendly 3) Electricity – saving PUF insulation 4) A tank for storing food-grade water 5)Full body of stainless steel (bottom up to top) 6) Safe over-load compressor 7) Cutout on the fly 8) Flexible Thermostat for Cold Water B) Water Cooler Technical Specifications: – 1) 10ltr per hour water tank and cooling capacity 2) One cock for pushing (tap). 3) R-134A refrigerant 4) Avg. weight:- 22kg 5) Tecumseh makes compressors. 6) Glasses at 60 per hour. 7) 230v/1ph/50hz AC power supply
---
Only logged in customers who have purchased this product may leave a review.